A couple of years ago one of my best friends and I arranged to spend a Saturday at a spa.
It sounds like a wonderful, relaxing way to spend a weekend. And it would have been, if I hadn't been deep in the throes of what I now know was panic disorder. It's hard to describe what I felt like at that time without just repeatedly saying words like INSANE and HORRIBLE and LIKE MY HEART AND BRAIN WERE TRYING TO DIG THEIR WAY OUT OF MY BODY THROUGH MY MOUTH.
I can look back on it now and understand it, but at the time I had no idea what was going on. I had constant panic attacks – I mean, about 25 to 30 a day – whilst trying to hold down a job, a marriage, and a social life. It was not fun.
And there came a point during this day when I just couldn't take it any more. On the face of it I was just another woman, laughing and joking and sitting in rooms of varying temperature with her friend. But on the inside I was losing my freaking mind. So I decided to tell my friend what I was going through, and that I didn't know what to do about it.
I think about that moment a lot. About the weight that lifted from my shoulders when I admitted it. About the fact that I could see she didn't even think about judging me. And about the unquestioning support I've had ever since.
Why am I talking about this now? Well, it's partly because time and distance are a marvellous thing. I can look back on that period – and I do, daily – and see everything it taught me. About myself, about my friends, and about what it takes to admit that you're suffering.
The older we get, the deeper our friendships become. I guess it's because we have less time and therefore less motivation to hang around people with whom we feel we need to pretend to be OK when we're not OK.
I value every conversation I have with friends where we tell each other what's really going on. But even more than that, I value the courage and the strength it takes for any of us to talk about it in the first place.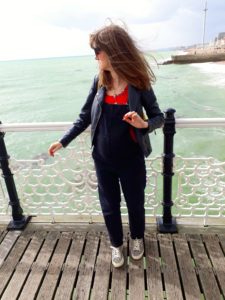 On reflection it took me months to admit what was happening to me. I thought that it would pass. I thought that I could handle it. I thought I had to handle it. Saying it was only the beginning – I had a long way to go before things got better – but you can't get to step 20 without taking step one, and once I'd taken it, I didn't look back.
We all want to just be all right. It's more fun to be around, it's more appealing, and it makes for better Instagram posts. But life doesn't always let us off so easily.
I'm about a month away from having our baby and, to be honest, I'm amazed that I haven't yet totally lost my sh*t. I'm not saying I haven't come close, but I've found the knowledge that any anxiety I experience is also felt by the baby to be marvellously grounding. Don't get me wrong, I've had my moments, but my focus is clear and all I can say is that it's helping so far.
But I'm also realistic. I know that I have a weakness and I'm not letting it out of my sight. I'm trying to tell myself and those around me now that if I struggle after I've had the baby, I want to feel able to say so. All anybody can do is take it day by day, so that's what I'm doing.
When you're in the thick of a struggle and you let people in on what's happening to you, you feel like you're making such a fuss. Like you're moaning and exaggerating, and bothering people with the contents of your mind.
And it's only when you're on the other side – when somebody speaks to you about what they're going through – that you can see that simply isn't the case. They're not over-sharing or being dramatic, they're being brave and strong, and giving you the chance to be there for them, which is a gift, actually.
I will never regret finding the courage to say something about what was happening to me. And I can only hope that others will do the same when they need to, too.