I have been awake since 2am thanks to the wonders of jet lag so I thought I'd take a risk and see what a blog post looks like when I'm in this state. Please fasten your seat belts, this could be a bumpy ride.
I have just returned to London town after an excellent three weeks in Australia. I have boarded nine planes, I have eaten a lot of ice cream, and I have managed not to have a single altercation with a crocodile, so I consider the trip to have been a success. As mentioned in my last post, my husband was there for work and I was there to be supportive/to have a sweet time in Australia.
And rather than bore you with pages and pages of chat about what I've been up to, I thought I'd tell my tale via photographs and limited sentences. That way you get a blog post you can scroll through at speed, and I get to avoid having to think of too many words. It's win-win all round.
Day 1
I discovered that, in Sydney, some trees are purple. Australia 1 England 0
Day 2
I decided to fight fire with fire. And by fire I mean 'jet lag' and by fire I mean 'margaritas'.  At best we can call it a draw.
Day 3 
I discovered what it really means to hang out by yourself – you can do whatever you want. So, for example, when you're heading for the aquarium and you stumble upon the Chinese Garden of Friendship, you can go right in and spend an hour there. And then you can decide you don't want to go to the aquarium after all, you want to go whale watching. And then you can discover that whale watching season is over and perhaps you'd just like to get a chocolate milkshake and then lunch. It's a lot of fun.
Day 4 
When in Rome, do as the Romans do, which in Australia translates to GO TO THE BEACH.
Day 5 
You've not really seen Sydney until you've been on the water, they said. So I did, and then I realised what they meant.
…and then I went to Manly Bay and Shelly Beach because that is what you do here.
Day 6 
At Taronga Zoo we found out that giraffes have super strong necks, very long tongues, and an unbelievably good view.
… and that koala bears really know how to work the camera.
I also had my first ever encounter with a kangaroo. Needless to say one of us was much more excited about this than the other.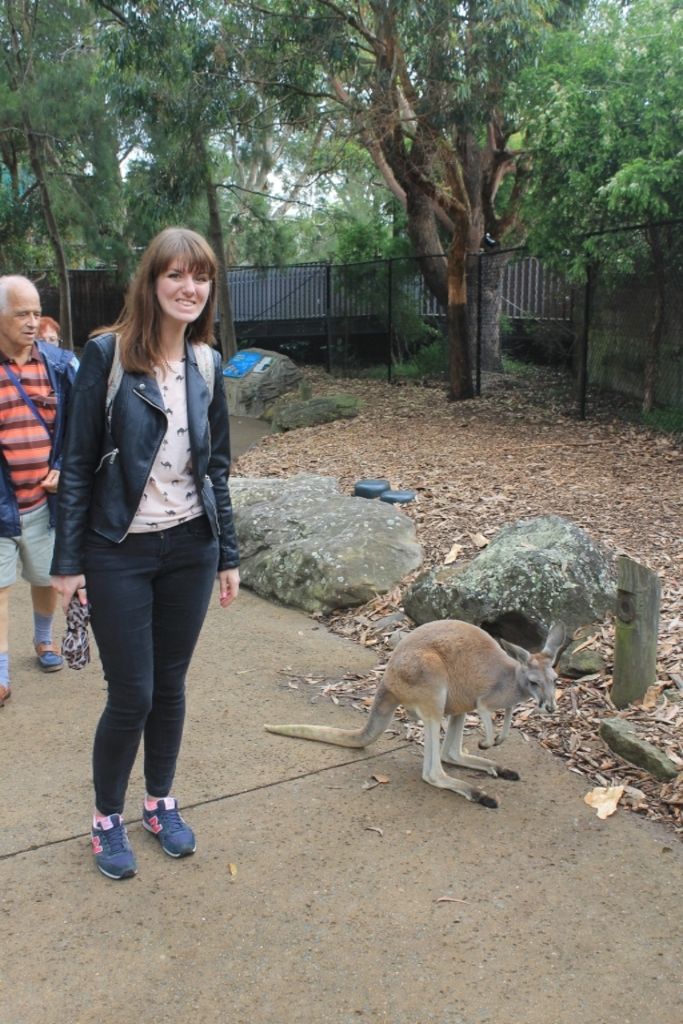 Day 7 
Sometimes on a holiday you have a day when you go to all the right cafes, you drink all of the right drinks, you eat all of the right food, you make hilarious joke after hilarious joke, and you look at each other and think: We are absolutely phenomenal at this. No, seriously, we should do this for a living. Is that a thing? Can going on holiday be a job? WELL IT SHOULD BE.
Day 8
I flew to Melbourne. I met up with a friend I hadn't seen for three years. I ate a really nice salad. As Mondays go this one was good.
Day 9 
We spent the day wandering around the north part of the city. Amongst many other things, I learnt that going to Melbourne and not liking coffee is like coming to England and not enjoying queuing and rain. My apologies, Australia.
…and that a wall is not just a wall in Melbourne, it's a canvas waiting to happen.
Day 10
In 31 degree heat, the city of Melbourne was hot hot hot. And thank goodness for that – if it hadn't been, my friend and I wouldn't have discovered when I said that I wanted an ice lolly (because I'm 30 years old, thank you very much) that in Australia a 'lolly' is what we would call a sweet whereas in England a lolly is… well, a lolly. I KNOW RIGHT. Oh no don't worry, I've already called up Lonely Planet to give 'em the scoop.
Day 11
The time had come for me, Melbourne and my dear chum and tour guide to part ways.  With a final farewell to the beautiful street art, I headed back to Sydney.
I got off the plane, raced back to my hotel room, showered, changed, and got a cab to Bondi beach to meet Leon. I'm not quite sure whose life I was living that day but it certainly wasn't mine.
Day 12
For a laugh, Sydney decided to shoot up to 42 degrees on my last full day in the city. In case you've never been outside in heat like that before, just pop on your oven, open the door, and imagine what it would be like to live in there. I managed two hours outside before diving into the rather lovely Art Gallery of New South Wales. God bless you, air con.
I don't like to actively envy other women if I can help it but I must admit that I would have given anything to be this girl that day.
If you're in the UK and you're as hot as I was whilst looking at this Christmas tree, you have had FAR too much mulled wine.
Day 13
Next stop: Cairns. We just couldn't get enough of those high temperatures so got on a plane for a fun five days in the tropics. An hour's drive around the coast and we arrived in Port Douglas. Starving we hit the supermarket and then the beach for a picnic. You know how they say that a cold beer tastes even better on a hot day? Well, the same applies to The Laughing Cow cheese. Honest.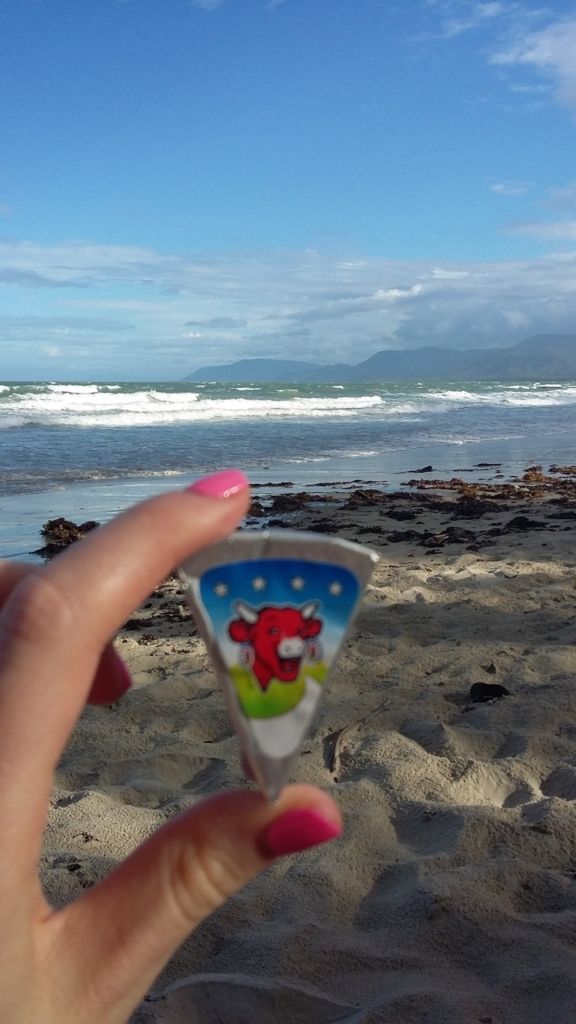 Day 14
We went to a market and bought a picture from a guy who had a dog named Moo. You?
Day 15
"Oh hey Charlotte, I like your suit. Why are you wearing that? Are you auditioning to be a tadpole in your local school play?"
Nope, I'm about to go snorkelling on The Great Barrier Reef and if any jelly fish want to sting me then they are just going to get a tentacle full of nylon (or I guess they could just go for my face, what if they went for my face?)
On a serious note, this was an extra special day as I was really quite anxious about the snorkelling – just because I so wanted to love it and enjoy the reef but sometimes I find the mask and the sea and the breathing through my mouth a bit claustrophobic but I was absolutely FINE. I loved it. AND I saw an actual shark and it didn't even eat me or anything. A very strong day all round.
Day 16
Can you see the crocodile? Well, if I learnt anything whilst exploring the Daintree Rainforest and river it's that he can definitely see you.
This is Cape Tribulation. S'alright.
No YOU swam in a waterfall that you later discovered was home to an almost two metre long (and totally harmless but STILL) eel.
Day 17  
I mean, you say he likes living at the wildlife habitat, but don't you think he would prefer to live in London? I don't think anybody would have minded – look how happy we were together.
Day 18 
The problem with holidays is that they must end. I know, it's bullsh*t. So we boarded the plane back to Sydney and bid a fond farewell to Port Douglas, its beautiful birds, its nightly flights of thousands of fox bats, and to everything this little bit of paradise did for our souls. Thanks for having us, PD.
I now know that when you have a 24 hour flight ahead of you, all you can think about when you get out of bed that morning is the fact that you will not get into an actual bed for an entire day. Which doesn't help at all. But like it or not, it was time to go. If nothing else, we'd spent all of our money. So we sat on our suitcases until they closed and made our way to the airport.
Thanks for having us, Australia; we had a blast.
As soon as I figure out how to sleep again, I know that you'll feature in my dreams.
A few (hopefully useful) specific Australia tips
Sydney
Go to: Taronga Zoo, Art Gallery of New South Wales, the State Library of New South Wales, the Royal Botanic Gardens – all obvious but lovely.
Eat at:
Makoto, Liverpool Street – for the best and most reasonably priced sushi of your life.
Mejico, Pitt Street – for all of the margaritas, the guacamole made in front of your eyes, and the tacos.
Cafe Sydney, Alfred Street – but you didn't need me to tell you that.
Reuben Hills, Albion Street, Surry Hills – for a brunch worth queuing for.
Mr Wong's, Bridge Lane – for all of the Chinese food.
Macchiato, Liverpool Street – for a late night pizza.
The Canopy, Liverpool Street – for the porridge and the salads.
Bills, Darlinghurst – hey, I never said this was going to be an original list.
Drink at:
Palmer and Co, Abercrombie Lane – for the Clover Clubs, the music and the novelty of being able to sit down in a bar on a Friday night.
Shady Pines Saloon, Crown Street – for the pride of actually managing to find the place.
Melbourne
Eat at:
South of Johnston, Oxford Street – for the green eggs. Warning: do not make any plans for the rest of the day. You will need to lie down after this.
Addict, Johnston Street – for the healthiest breakfast you'll ever have and an excellent window for people watching purposes.
Naked for Satan, Brunswick Street – for the views, the food, and particularly the eggplant with blue cheese oh my goodness.
Xeom, Smith Street – for vietnamese street food and a test as to how much chilli you can take.
Arbory Bar and Eatery, Flinders Walk – for lunch by the water in a bar which is attached to a station and yet is in no way horrible.
Miss Chu, Exhibition St – for a tasty, crunchy vietnamese salad
Port Douglas
Go to: The Wildlife Habitat Port Douglas, the Great Barrier Reef (we went on the Calypso boat and had a great time), and for a tour of the Daintree Rainforest (we went with Daintree Discovery Tours and cannot recommend them enough).
Eat at:
Zinc, Macrossan Street – for the barramundi, the kiwi flavoured mojitos, and the bathrooms (I'll let you find out why).
Mango Jam, Macrossan Street, – for the calamari and the mango daiquiris. Turns out they go surprisingly well together.
Watergate, Macrossan Street – for the duck. Have the duck. It's just so good. Please, just have it.
The Surf Life Saving Club, Mowbray Street – for a good and thrifty meal, a gin and tonic and service with a smile.
Sassi, Macrossan Street – for the squid ink pasta and the massive prawns. Stewart Lee fans, it's true, they're huge.
Salsa Bar and Grill, Wharf Street – for a reminder of what it means to have eyes that are bigger than your stomach.
Drink at:
Sassi (mentioned above) – for great drinks as well as food. Have a margarita or two, you're on holiday.